Stop Action Upsets in Batavia Downs Feature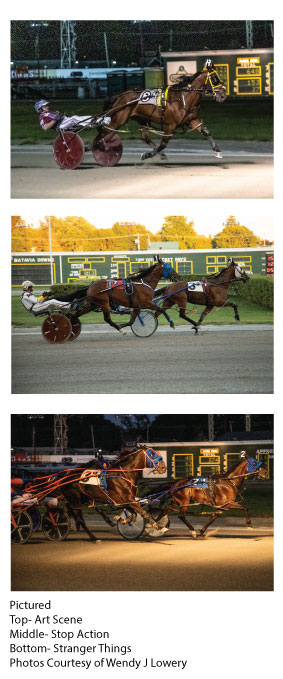 Batavia, NY — Despite not missing the board once over the last three months, Stop Action was released at 8-1 by the betting public and he made them regret it after winning the $15,000 Open I Handicap pacing feature at Batavia Downs on Saturday night (July 30).
Ideal Artillery (Drew Monti) maintained his pylon position and led the single file field through splits of :27.4 and :57 flat while Stop Action (Kevin Cummings) sat chilly in the pocket. Shortly after that station, Just Plain Loco (Dave McNieght III) came rolling first-up in the breeze and pushed Ideal Artillery to a speedy :27.4 third panel.
The battle continued through the last turn but Ideal Artillery had more ammunition and shot down Just Plain Loco's attack. When the field straightened out for the stretch run, Ideal Artillery looked like he was home but Cummings dipped into the passing lane with Stop Action and ran down the leader at the wire and won by ½ length in a season's best 1:53.1
It was the ninth win of the year for Stop Action ($19.00) who is owned by Super Mile and trained by Angelo Nappo.
Cummings and Nappo struck again in the $14,000 Open II Handicap pace with Stranger Things, who pull first-over at the half, drew alongside and eventually overpowered the front-running McSpidey (Kyle Cummings) and then held off the late-closing Blue Spanx (Keith Kash Jr.) to win by ¼ length in 1:54.1, which was his fastest mile of the year.
James Reuther owns Stranger Things (10.60).
Cummings finished the night with a driving hat trick.
Finally in the $13,750 Open III,  Art Scene (Jim Morrill Jr.) made an early move from fifth before the half and took a lot of air running down the leading Black Is Back (Dave McNieght III) and then cruised to the wire on top by 1-¼ lengths in 1:55.1.
Art Scene ($5.10) is owned by Vogel & Wags Nags and Team Rice Racing and is trained by Maria Rice.
Morrill had a driving grand slam to lead all reinsman on Saturday.
Live racing resumes at Batavia Downs on Sunday (July 31) with post time at 1:15 p.m. Free full past performance race programs for all live race days can be downloaded by visiting the track's website at bataviadownsgaming.com and clicking the "Live Racing" tab
By Tim Bojarski for Batavia Downs