Rocknroll Shelli wins feature; Morrill wins five at Batavia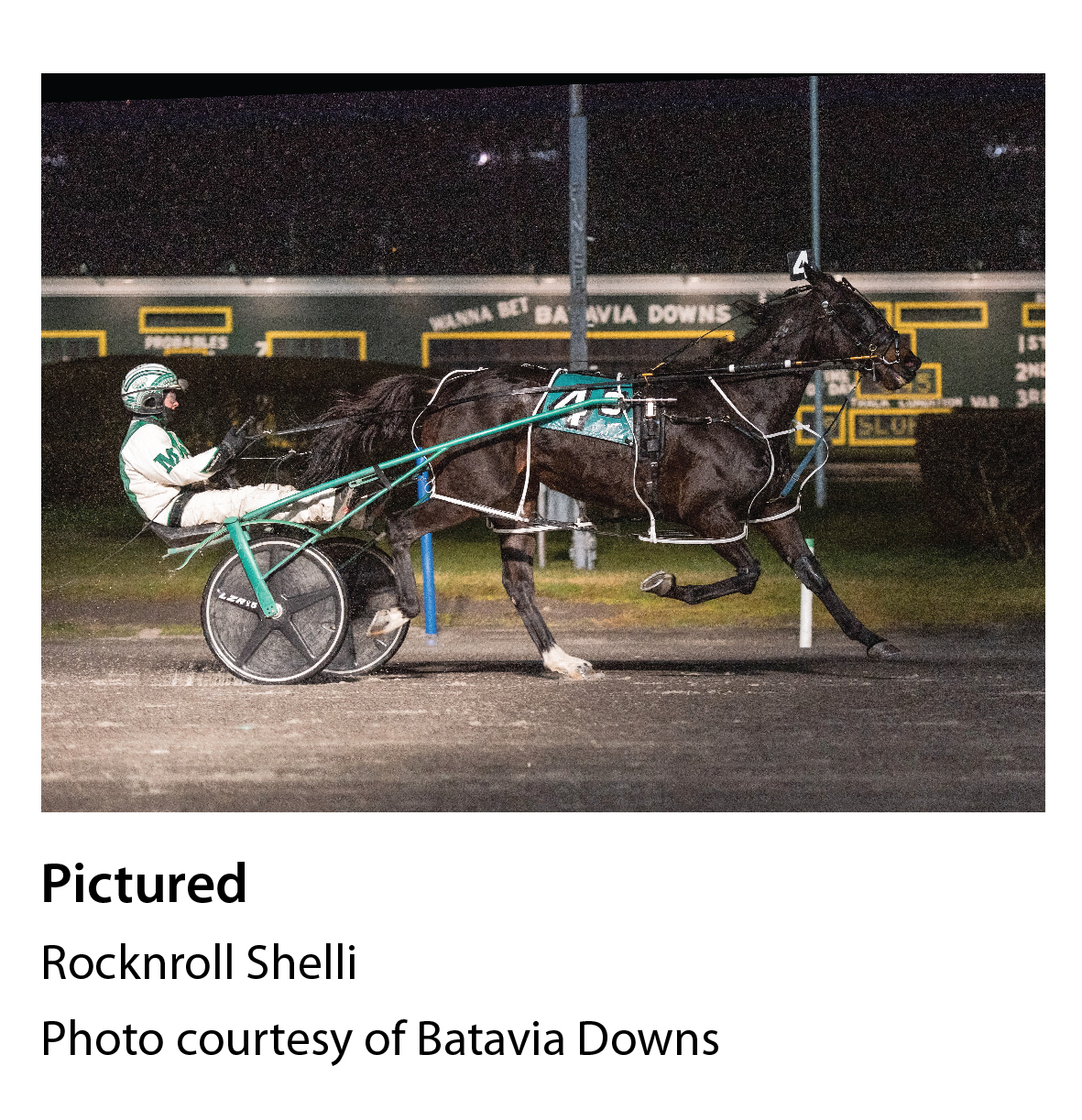 Batavia, NY — Rocknroll Shelli had one start at Batavia Downs the final week of meet last December where interference may have caused her a more favorable placing. Now after making two consecutive board hits at The Meadowlands in subsequent outings, the 5-year-old mare returned to Genesee County to claim her first win of 2023 in the $13,000 Open I Distaff Handicap pace over a rain-soaked track at Batavia Downs on Thursday afternoon (Jan. 12).
Dave McNeight III sent Rocknroll Shelli to the front, seating Fond Memories A (Larry Stalbaum) in the process. The Then The Stunning Nun A (Jim Morrill Jr.) came with an early rush to claim control past the :28 quarter. However that lead was short-lived as Rocknroll Shelli shot right back to the top and hit the half in :57.3.
At the five-eighths Stalbaum pulled Fond Memories A and started to advance towards the leader up the backside where the top three mares broke away from the field by five lengths. They proceeded to pace in close quarters around the final turn then as they hit the top of the stretch, The Stunning Nun A made a break and Fond Memories A could no longer keep up with Rocknroll Shelli, who then cruised across the beam on top by 1-1/2 lengths in 1:56.3.
Rocknroll Shelli ($5.70) is owned by Chris Lawton and Dale Lawton, who also trains the mare.
Lawton went two for two training as he also won with Dreamscapes Afs (2:00.3, $7.50).
Jim Morrill Jr. was on his game Thursday, driving five winners during the program. He scored with Meadowbrook Chip (2:02.4, $6.10), All Speed Rising (2:00.4, $4.70), Embrace The Rust (2:01.3, $4.00), Falcon's Luke (2:00.2, $3.10) and Wonderful World (1:59.2, $3.90). Morrill also had a second and two thirds from his nine total drives, giving him a one day UDR of .691.
Mike Baumeister also registered a driving hat trick.
There is a small carryover of $446 in the Jackpot Super Hi-5 pentafecta which will be available in the 13th race on Monday (Jan. 16) when live racing resumes at Batavia Downs. Post time is at 3 p.m. Free full card past performance forms can be downloaded at the Batavia Downs website and all the racing action can be viewed as it happens at the Batavia Downs Live Facebook page.
By Tim Bojarski, for Batavia Downs