Batavia Downs sets a new all-time betting mark on Monday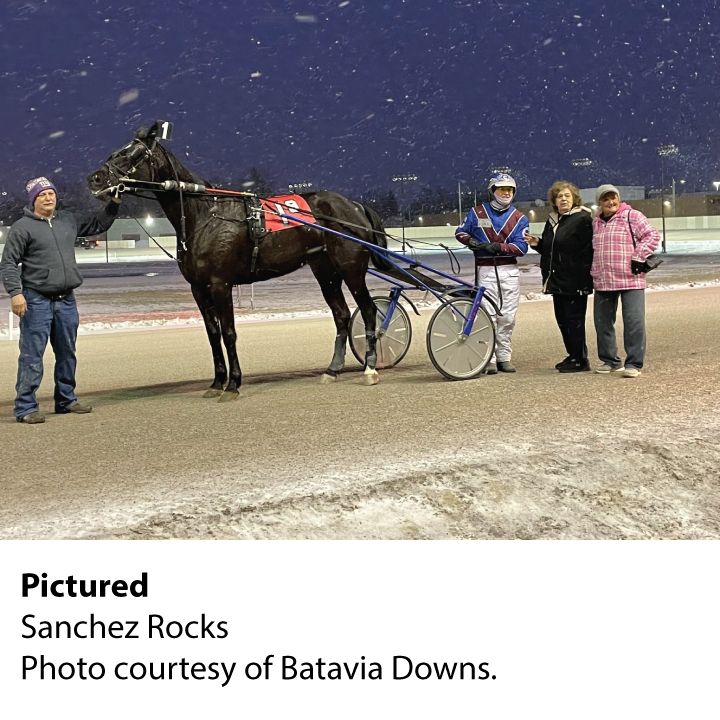 Batavia, NY — It was an historic day for the oldest lighted harness track in North America on Monday (Jan. 30) after the bettors came out in force and pumped $340,602 through the windows (from all sources) on 13 races to set a new all-time single card betting mark at Batavia Downs. That total is the highest handle since Western Regional Off Track Betting reopened the Downs in 2002 and surpassed the old total of $339,000 which was realized over 14 races during the 2019 New York Sire Stakes Night of Champions finals.
"I'm very happy with today's record handle, it was truly a team effort by the staff and horsemen and women here at Batavia Downs. Full, competitive fields and a cozy Monday afternoon off-track wagering slot were instrumental in these results," said Don Hoover, Director of Live Racing and Race Secretary at Batavia Downs.
One of Monday's driving factors was the $10,000 guaranteed pool in the Pick-5 race that kicked the day off in race one. There was $21,202 new money added to the $4,741 carryover and that spearheaded a total pool of $61,292 for that race alone. The winning combination of 3-5-3-3-1,2 returned $290.50 for the 50-cent wager.
The competitive races were a direct result of the resumption of the Western New York Trackmaster Pop-Up Series. There were 12 legs in this second round ranging in value from $6,000 to $9,000 each (depending on TM rating) and those races were very well matched.
In the $9,000 Trackmaster 78 for pacers, Faithful Desire (Kevin Cummings) followed the cover of Pocket Watch N (Ray Fisher Jr.) past the half, in pursuit of the front-running Sportskeeper (Jim Morrill Jr.). Faithful Desire remained third until the top of the stretch when Cummings tipped three-wide and then drove hard to the line to win by a neck in 1:56 flat in the fastest race of the day.
Faithful Desire ($8.90) is owned by Eva Saintcross and is trained by Shawn McDonough.
Cummings ended the day as the top reinsman with a total of four driving wins while McDonough would add a second winner later in the card.
In the other $9,000 Trackmaster 78, 33-1 shot Reggiano (Dave McNeight III) moved first-over from fourth after a very quick half set by Delightful Summer (Kevin Cummings) and made a three-wide move at three-quarters before clearing and pulling away to a two length victory in 1:57.
Reggiano ($68.00) is owned and trained by Marc Shuttleworth.
Later in the $9,000 Trackmaster 77 for trotters, Sanchez Rocks (Kyle Cummings) made it two straight in the series after he sat in the garden spot behind Good Boy (Ray Fisher Jr.) until the three-quarters, where he popped the deuce and went on the attack. Sanchez Rocks ran down Good Boy in deep stretch and then trotted clear by 2-1/4 lengths to win in 2:01.
Sanchez Rocks ($2.70) is owned by Marie Houghtaling and is trained by Ron Houghtaling.
There are two more weeks of preliminary action before the finals of the Pop-Up series which will be held on Monday (Feb. 20) and offer purses ranging from $12,000 to $18,000. Consolation races will also be offered and go for $7,000 to $10,000 each. Spots in both will be secured by the top money earners in each Trackmaster category.
Other participants registering multiple wins on the card included drivers Drew Monti and Kyle Cummings who each had a hat trick and trainers Tammy Cummings and Dave Russo who both had two winners.
When live racing resumes at Batavia Downs on Thursday (Feb. 2) at 3 p.m. there will be a $2,582 carryover in the Jackpot Super Hi-5 pentafecta which will be available in race 11.
Free full card past performance forms for the entire card of live racing at Batavia can always be downloaded at the Downs' website (bataviadownsgaming.com) under the "Live Racing" tab and all the racing action can be viewed as it happens at the Batavia Downs Live Facebook page.
By Tim Bojarski, for Batavia Downs