Stalbaum steals the show in Batavia Downs winter opener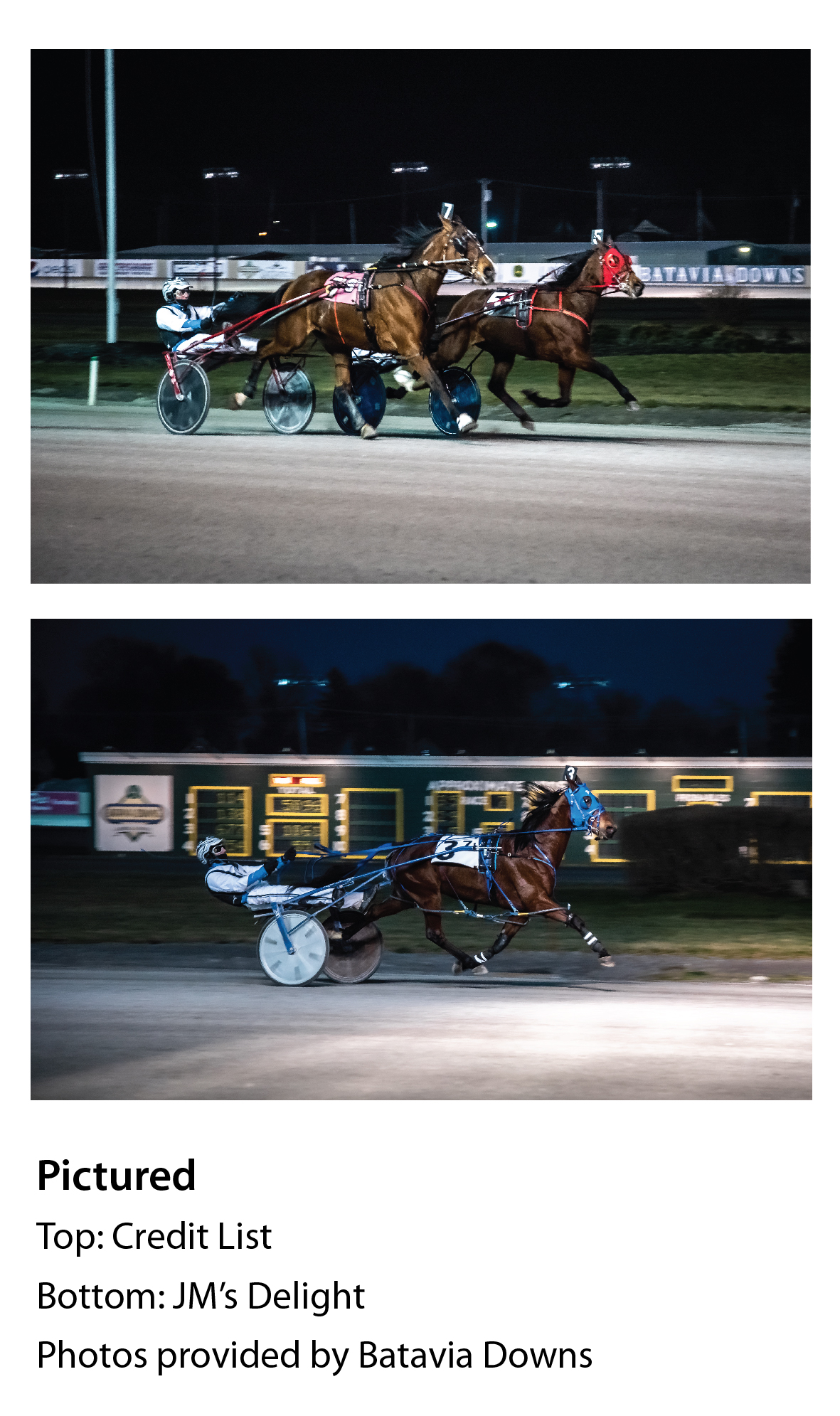 Batavia, NY — Former Batavia Downs driving regular Larry Stalbaum has only been racing at the Downs as a part-time ship-in in recent years as his base of operations has moved away from western New York. But after spending more time in Genesee County this past year, Stalbaum was a force to be reckoned with on opening day of the first winter meet in over 20 years as he trained and drove five winners on the 13-race card that produced the highest betting handle since 2019.
"The Bomber" won with Malibu Kid (2:00.2, $2.70), Black Hawk Joe A (1:57, $2.20), Inquiring Mind (2:00.3, $20.00), La Puddie A (1:56.1, $14.20) and American Zest A (1:56.3, $3.30). He also had two thirds from his eight starts giving him a .764 UDR and UTR. Stalbaum was the leading dash driver at Batavia Downs in 2017 when he posted 134 wins that earned $743,422 for his connections.
Downs regular Jim Morrill Jr. also had a big day in the bike winning four races of his own that included a natural hat trick in races eight, nine and 10. The ninth was the co-featured $13,000 Open I trot that he scored with Credit List in a close finish.
Dewey Arnold (Kevin Cummings) went to the front and led the single file field to the half in a swift :56.4 while Morrill sat fifth with Credit List. It wasn't until the five-eighths that an outer flow formed, led by Share The Wealth (Drew Monti) who was followed by Hobbs (Cory Kreiser). As the top two trotted past three-quarters in 1:26.2, Credit List was locked in fifth and was losing ground. Halfway through the turn, Share The Wealth made a break and at the top of the stretch, Big Box Hanover (Larry Stalbaum) came off the pegs for the drive. This provided Credit List a clear path to the wire that he took to a neck victory in 1:56.4.
It was the fourth win in the last five starts (going back to last year) for Credit List ($11.80), his owner Room4040 LLC Stables and trainer Kevin Reynolds Jr.
Morrill added three seconds and two thirds to his 13 drive tally to end the day with a .513 UDR.
The featured $13,000 Open I pace was won by Monticello Raceway shipper JM's Delight, who was driven to an eye-popping victory by the Downs 2022 driver of the meet, Kevin Cummings.
Cummings put JM's Delight right on the point and never looked back from there. After pacing fractions of :27.3 and :57 to the half, JM's Delight had opened up a two length advantage at that station. But TJ's Indy Pacer (Drew Monti) pulled first-over into turn three, drew alongside the leader up the backside and forced a slick :27.3 thrid panel. But under heavy urging from Cummings, JM's Delight turned back that challenge and again opened up by 1-1/2 lengths on the field at the top of the stretch. Heading down the lane, JM's Delight just kept on going and stretched out to a 2-3/4 length victory in 1:52.4.
JM's Delight is owned by Greg Merton and trained by Shawn McDonough.
Cummings ended the day with a total of three winners.
The bettors seemed to like the opening day card and early 3 p.m. post as they pumped $257,510 through the windows. That total was over $20,000 higher than any race card of 2022 and the best overall handle at Batavia Downs since 2019 when punters wagered over $339,000 during the New York Sire Stakes Night of Champions. The $10,733 carryover and $17,500 guaranteed pool for the "must-pay" Jackpot Super Hi-5 wager in race 13 drew $41,724 in new money and pushed that race's total handle to $67,058. The 4-1-5-3-2 combination returned $97.70 for the 20-cent wager.
Racing resumes at Batavia Downs on Thursday (Jan. 12) with post time at 3 p.m. Free full card past performance forms can be downloaded at the Batavia downs website and all the racing action can be viewed live at the Batavia Downs Live Facebook page.
By Tim Bojarski, for Batavia Downs