Long-shots aplenty at Batavia Downs Thursday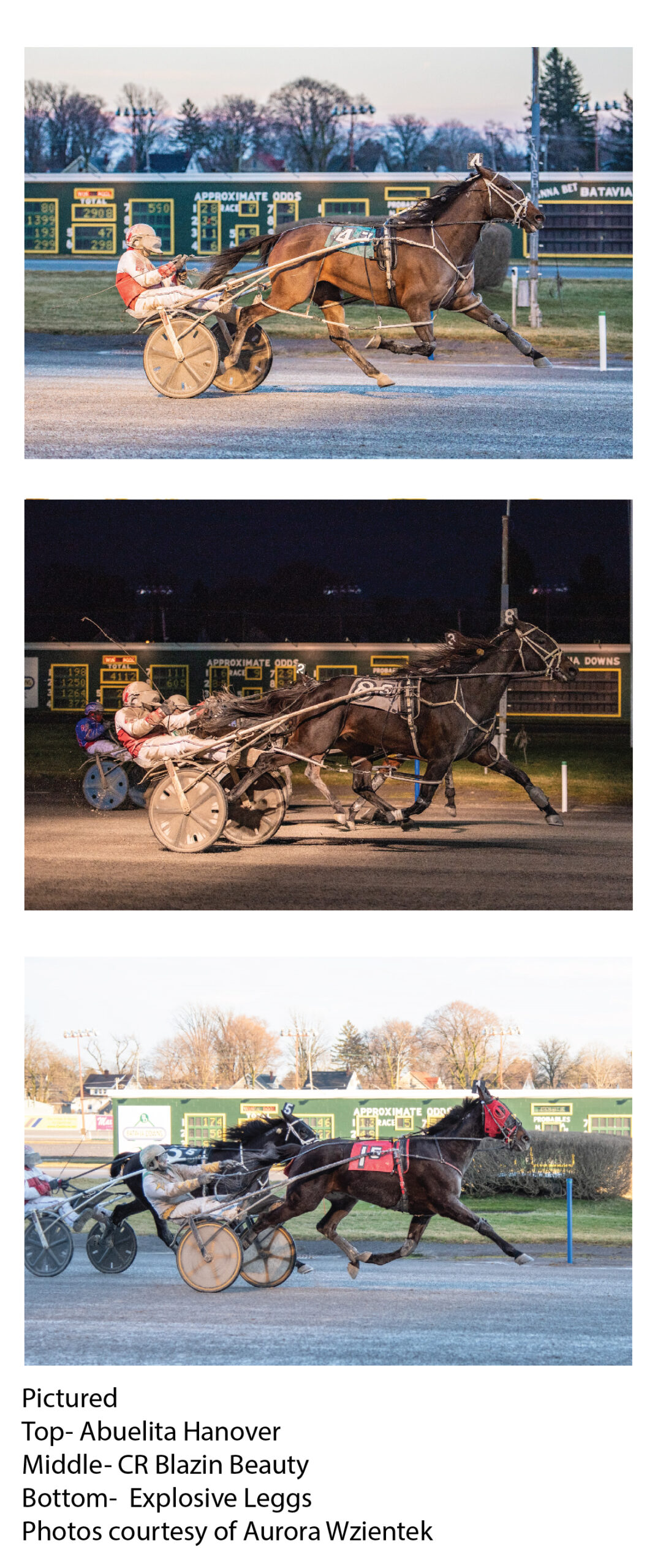 Batavia, NY — It was a warm and wet Thursday afternoon (Feb. 9) at Batavia Downs and despite the sun making a cameo appearance for a couple of races, the wet conditions may have contributed to only three favorites winning in 12 races on a day where big payouts were the norm.
The top trot was a $9,500 conditioned event that saw Explosive Leggs (Dan Yetman) capture his second straight win with an upset victory.
Overlooked at 13-1 from a pylon start, the newly claimed Explosive Leggs played hardball with Con Air Hall (Dave McNeight III) and Inquiring Mind (Larry Stalbaum), parking both to the quarter in :28.3. Inquiring Mind ultimately cleared giving Explosive Leggs the pocket ride, while Con Air Hall was left out in the breeze. The race went to the half in :58.2 and three-quarters in 1:28.4 with Inquiring Mind amassing a three-length advantage heading into turn four. However in that bend, the leader began to falter and Explosive Leggs started to reel-in Inquiring Mind. At the top of the stretch the pair were even until Explosive Leggs started to pull away approaching the line, and eventually won by 1-1/4 lengths in 2:01.
It was the 35th lifetime win for the 11-year-old Explosive Leggs ($29.20), but the first for his new connections, owner Lav Racing Stable and trainer Russel Bratt.
Yetman would light up the board again later in the card with a $27.80 win behind Barry Hanover in 1:56.4.
There was also a pair of $9,500 conditioned pacing races slated — divided by gender — and both double-digit payoff winners were trained and driven by Larry Stalbaum.
In the fillies and mares split, Abuelita Hanover got away fourth as American Delight N (Kyle Cummings) spearheaded fractions of :29.2, :59.4 and 1:29.1 through three-quarters. It was passing that last station where Stalbaum made a three-wide move from fifth with Abuelita Hanover and eventually drew even with the leader straightening for home. Down the lane, Abuelita Hanover cruised to the light under a hand-drive from Stalbaum to win by 3-3/4 lengths in 1:58.4.
It was the second straight win for Abuelita Hanover ($15.80) as well, who is owned by Jennifer Safford.
Then later in the boy's division, Stalbaum got away fifth with Black Hawk Joe A while Bluesville (Dave McNeight III) looked a confident leader at the half in :59.4. Black Hawk Joe A, who had moved to the outside just past the quarter, came calling early on the outside and got within a length of Bluesville at the five-eighths. But despite Stalbaum's incessant rocking to urge him on, Black Hawk Joe A stalled around the last turn and lost some ground to the leader. As they straightened out for home it appeared Bluesville was clear to the wire until Black Hawk Joe A found new foot in the lane, made up the 1-1/2 length deficit and won by one-half length in 1:57.1.
It was also the second win in a row for Black Hawk Joe A ($11.00) who Stalbaum also owns.
Stalbaum finished the day as the leading driver with three wins in the bank and leading trainer with two wins on the card.
When live racing resumes at Batavia Downs on Monday (Feb. 13) at 3 p.m. there will be a $1,086 carryover in the Jackpot Super Hi-5 pentafecta which will be available in race 13.
Free full card past performance forms for the entire card of live racing at Batavia can always be downloaded at the Downs' website (bataviadownsgaming.com) under the "Live Racing" tab. And all the racing action can be viewed as it happens at the Batavia Downs Live Facebook page.
By Tim Bojarski, for Batavia Downs