Kevin Cummings cops both Batavia features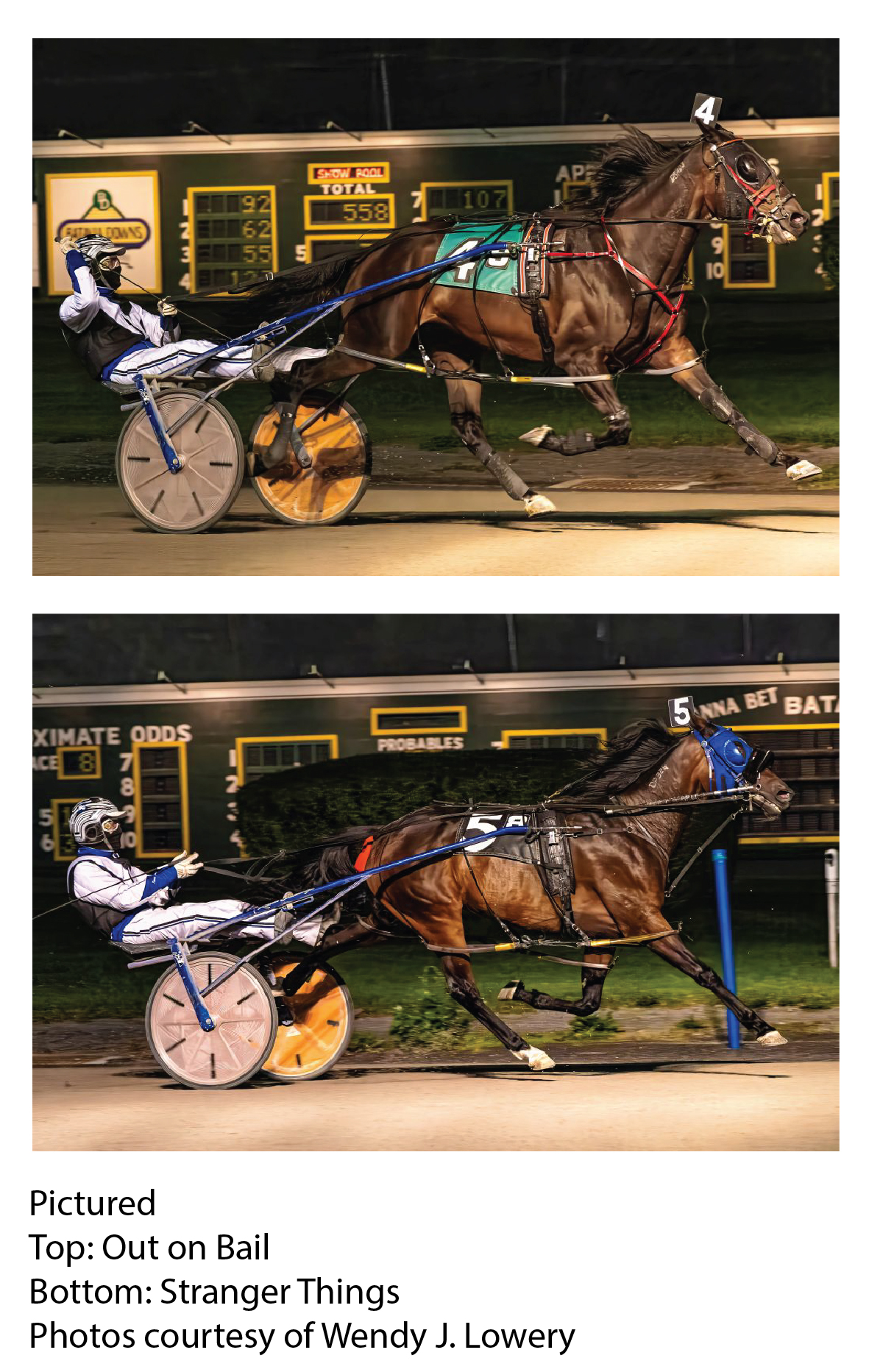 Batavia, NY — Batavia Downs leading driver Kevin Cummings added a couple more wins to his total for the meet after taking the top two contests at the Genesee County oval on Saturday night (Oct. 28).
After moving up the class ladder with successive wins over the past two weeks with Cummings in the bike, Out On Bail moved into the $13,000 Open II Handicap pace and made it a three-peat for his connections.
Cummings put Out On Bail on the point off the gate and played catch-me-if-you-can from there. After opening up a two length advantage, Out On Bail stopped the timer quarterly at :27.3, :57.2 and 1:25.2 while increasing his lead to four lengths at that third station. Out On Bail was up by five at the top of the stretch and from there, cruised home to an easy 1:54 victory that established his seasonal mark.
It was the seventh win of the year for Out On Bail ($8.20) who is owned by Mike Torcello and trained by Sam Smith. Smith finished the night with two training wins.
Then in the $12,500 upper-level conditioned pace, Cummings was also able to assist Stranger Things to his seventh win of the year by making an early move on a runaway leader.
Stranger Things got away fifth as Odds On Delray (Aaron Byron) was busy opening up an eight length lead at the half. As the race moved into turn three, Cummings was already out and rolling with Stranger Things, who was making up a massive amount of ground on Odds On Delray, who had begun to falter. Stranger Things took the lead and crossed over to the pegs at three-quarters and Cummings rocked him all the way around the far turn. Then at the top of the stretch Cummings kept Stranger Things on task with moderate urging to the wire where he won by 1-¾ lengths in 1:53.3.
Stranger Things ($2.60) is owned by Kathey Schoeffel, Virginia Schoeffel and James Reuther and trained by Angel Nappo.
Jim McNeight Jr., Jim Morrill Jr., Drew Monti and Austin Sorrie all joined Kevin Cummings by winning two races during the card.
The litany of longshots at Batavia Downs continued in race 11 on Saturday after 82-1 Silverhill Blaze (Austin Sorrie) followed fast fractions from fifth of :26.3 and :54.4 set by Mighty Santana N (Jim Morrill Jr.) before finding open road in the passing lane to upset at the wire in 1:55 and pay $167.00 for a $2 win bet.
Another big payout came when the Jackpot Hi-5 pentafecta was hit in race 13 as a single unique combination of 1-5-9-7-6- returned $1,929.30 for a 20-cent wager.
Live racing resumes at Batavia Downs on Wednesday (Nov. 1) at 6:00 p.m.
Free full past performance programs for every live card of racing at Batavia can always be downloaded at the Downs' website (bataviadownsgaming.com) under the "Live Racing" tab and all the racing action can be viewed as it happens for free at the Batavia Downs Live Facebook page.
By Tim Bojarski for Batavia Downs