Just Plain Loco wires Batavia Open field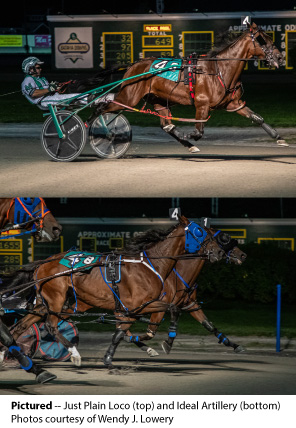 Batavia, NY — Taking full advantage of a soft second quarter, Just Plain Loco hit the gas in the second half and put away the field in the $15,000 Open I Handicap pacing feature at Batavia Downs on Saturday night (Sept. 10).
Dave McNeight III left hard with Just Plain Loco, seated fellow leaver Stratosphere (Drew Monti) in the first turn and then took the field to the quarter in :27.4. With the six horse field staying single file from there, McNieght grabbed leather and backed off the second panel to :30.1 and that was the game changer. Surfer Beach (Jack Rice) made the first over move and tried to advance towards the leader, but Just Plain Loco had another plan in mind.
He sped to three quarters in 1:25.3 and put some distance between himself and the field before heading into the last turn. At the top of the stretch Just Plain Loco had a two length advantage and a lot left in the tank as he paced home in 1:53.1, which was just one fifth of a second off his season's best effort.
It was the seventh win of the year for Just Plain Loco ($4.30) who is owned by Paul Lang and Mark Toth. Jennifer Giuliani trains the winner.
McNeight had two wins during the night.
The $14,000 Open II Handicap pace was a real slugfest and only the photo finish camera could separate three horses at the wire.
Drunkonaplane (Jack Rice) left and got the cold shoulder from the pylon-starter Yankee On The Move (Kyle Cummings). The two went at it through quarters of :27.3 and :56.1 before Ideal Artillery (Drew Monti) rolled up first in the breeze and tipped three wide around the fading Drunkonaplane at the five-eighths pole.
Ideal Artillery then hooked up with Yankee On The Move at three-quarters and they paced in unison around the far turn and into the stretch. It was there that American Trademark (Keith Kash) shook loose and made it three across the track. Under heavy urging, the trio battled all the way to the line where Ideal Artillery got a nose in front to win in 1:53.4.
Ideal Artillery ($5.70) is owned by Howard and Michael Ouriel and is trained by Don Rothfuss.
Kevin Cummings was the top driver on Saturday with three wins during the proceedings.
Live racing resumes at Batavia Downs on Wednesday (Sept. 14) with post time at 6 p.m. Free full past performance race programs for all live race days can be downloaded by visiting the track's website at bataviadownsgaming.com and clicking the "Live Racing" tab.
By Tim Bojarski for Batavia Downs