Jim Morrill Jr. gets career win 8,000 at Batavia Downs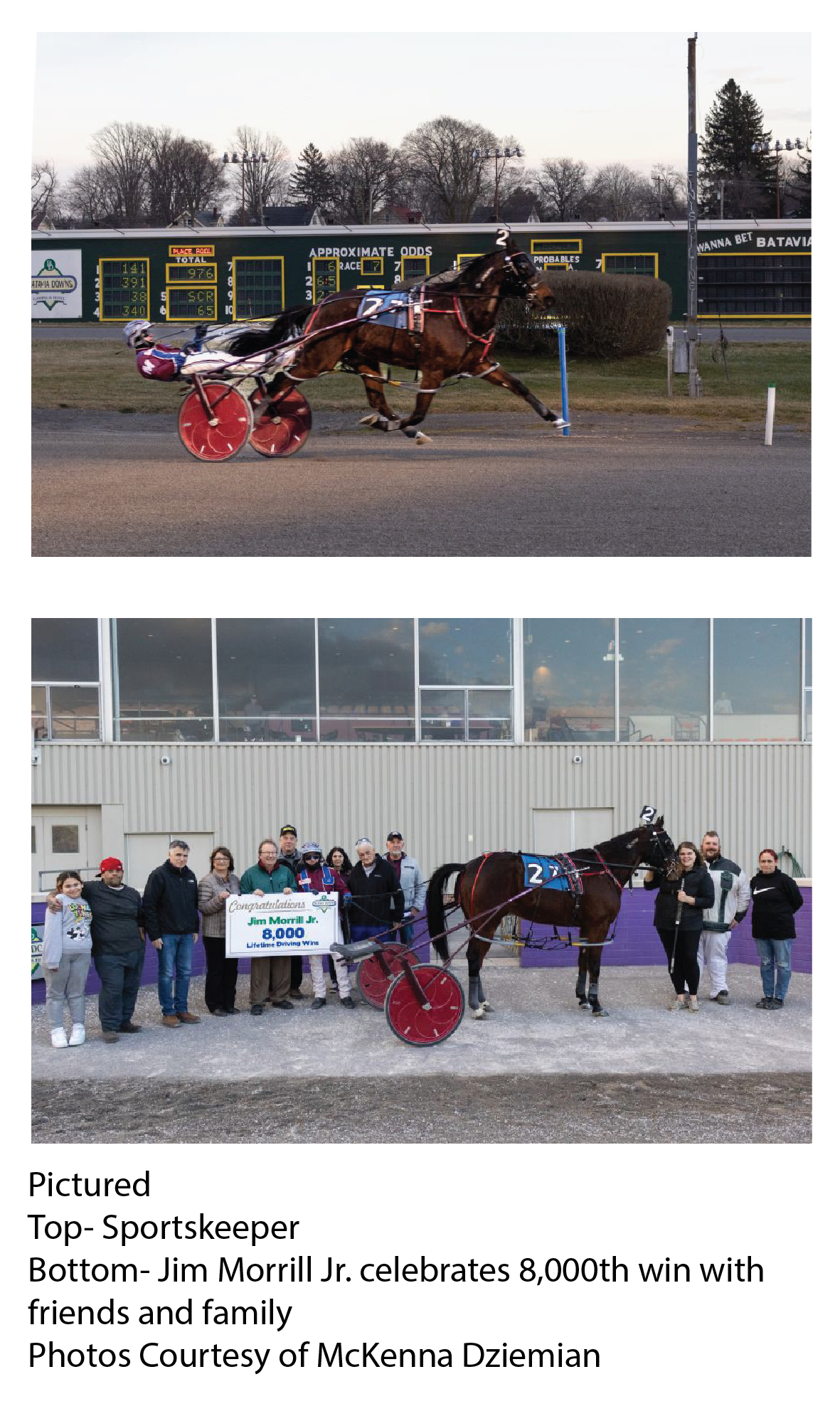 Batavia, NY— Driver Jim Morrill Jr. achieved another major milestone in his stellar career at Batavia Downs on Monday (Feb.13) when he drove Sportskeeper ($4.70) to an easy gate to wire, 1:56.1 victory in the seventh race to achieve his 8,000th lifetime win in the sulky. Morrill would also win with Gorgeous View (1:58.3, $7.00) and Silver Buckeye (2:00.2, $8.40) for the hat trick to put an exclamation mark on his landmark day.
At the end of business Monday, Morrill had 42,173 starts with 8,002 wins, 6,594 seconds and 5,413 thirds and $112,388,888 in earnings for his tenure in the sport. That purse total puts him 21st on the all-time earnings list among all drivers in North America. So far in 2023 Morrill has a UDR of .496 and sits in second among all drivers in North America with less than 300 starts so far this year. And at the current Batavia Downs meet, Morrill is the leading UDR driver (.496) and sits second for wins (22) and earnings ($135,240).
Morrill reached 7,500 wins just two years and three months ago in 2020 at Batavia and it only took him 1,850 starts to get those next 500 wins.
A native of Methuen, Massachusetts, Morrill had aspirations of playing in the National Hockey League after being a junior hockey star prior to his career in harness racing, and those who know him would attest he was good enough to achieve that goal. But Morrill chose to follow in his father's footsteps and made his first driving start at Foxboro Park in 1984. The family's operation eventually moved to Rosecroft Raceway where Morrill began getting many catch drives and soon found himself in high demand. In 1990 Morrill went to New York and started driving for Ray Schnittker and George Anthony at Yonkers Raceway and with all the success he had there, decided that move would be long term.
During his time competing on the Metropolitan circuit, Morrill recalled his most memorable race as being the 2004 Meadowlands Pace where Holborn Hanover was a 58-1 upset winner in 1:49 to equal the stake mark. Among his other notable wins are three Breeders Crown finals with See You At Peelers, Won The West and Yellow Diamond and the 2012 Yonkers Trot with Archangel.
After 15 years of driving at the highest level of competition, Morrill left the big city in 2005 and relocated his family and business to western New York. And since arriving on scene there has not only been at the very top of the local driver colony, but also became a dominant force in the New York Sire Stakes.
In 2006 at Batavia Downs, Morrill set the all-time driving standard with 177 wins and a UDR of .537 for one meet. He also co-holds the track mark for most driving wins on one card (seven) and just last year, became the first driver to ever surpass $1 million in purse earnings in a single season at Batavia Downs.
The fourth and final preliminary leg of the Western New York Pop-Up Series was also held on Monday with several horses staking their claim to be favored in the finals that will be held next Monday (Feb. 20).
In the $9,000 Trackmaster 78 pace, Faithful Desire (Kevin Cummings) won for the third straight time, and her sixth out of the last seven at Batavia going back to last year.  It was a hard-fought victory that saw this lone mare in the field by a nose and pay $5.50. Eva Saintcross owns the Shawn McDonough-trained winner.
Then in the $7,500 Trackmaster 74 pace, Blazing Light (Kyle Cummings) won for the third straight time and again in convincing fashion. This week it was a six length, 1:57.3 romp for the driver-owned gelding trained by Tammy Cumming. Blazing Light returned $2.70.
And in the $9,000 Trackmaster 77 trot, Good Boy (Ray Fisher Jr.) went gate to wire to claim his second straight win to go along with a pair of second place finishes in the series. Mary Warriner owns the $4.30 winner that is trained by Ryan Swift.
The Monday (Feb. 20) finals will offer purses ranging from $12,000 to $18,000 while the consolation races will go for $7,000 to $10,000 each. Spots in both will be secured by the top money earners in each Trackmaster category.
When live racing resumes at Batavia Downs on Thursday (Feb. 16) at 3 p.m. there will be a $1,686 carryover in the Jackpot Super Hi-5 pentafecta which will be available in race 11.
Free full card past performance forms for the entire card of live racing at Batavia can always be downloaded at the Downs' website (bataviadownsgaming.com) under the "Live Racing" tab and all the racing action can be viewed as it happens at the Batavia Downs Live Facebook page.
By Tim Bojarski, for Batavia Downs