Front runners feast, Morrill wins six at Batavia Downs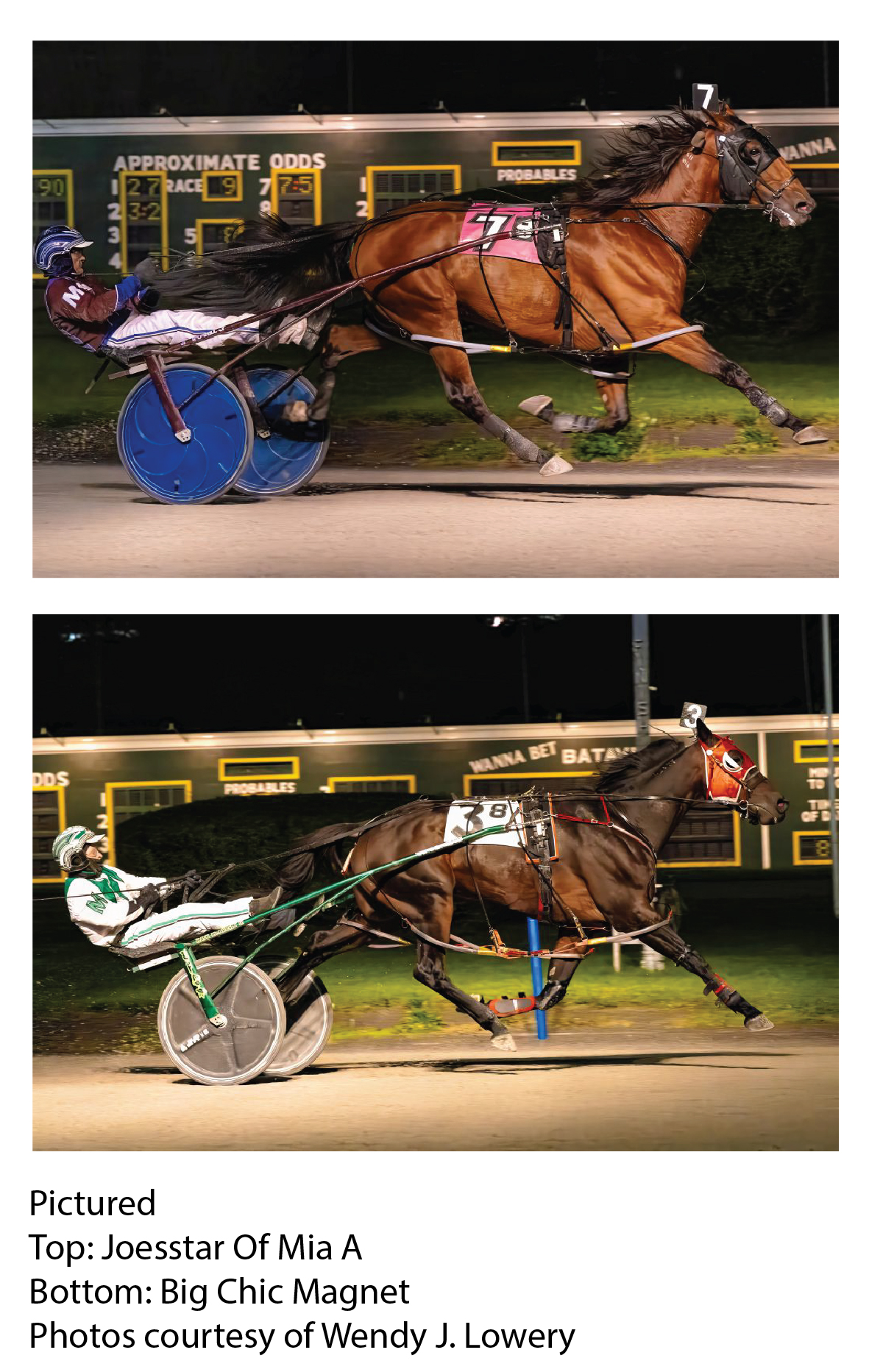 Batavia, NY — There was an obvious front-end speed bias at Batavia Downs on Saturday night (Oct. 21) and the winners of the top two paces took full advantage of that route to victory.
In the $15,000 Open I Handicap, Joesstar Of Mia A (Jim Morrill Jr.) overcame interference by the breaking Avion Seelster (Dave McNeight III) in the first turn and made his way to the front at the quarter in :27.1. From there, the field stayed single file until three-quarters where Stranger Things (Kevin Cummings) had made his way to second and was at the leader's tail. Stranger Things bid folded in the final turn leaving the tripping Mirragon A (Austin Sorrie) the only horse left with a shot. But Morrill closed that door as well and he urged Joesstar Of Mia A to the line on top by 1-¼ lengths in 1:53.
Joesstar Of Mia A ($4.90) is owned by Dowse Racing and is trained by Gareth Dowse. It was one of three wins for Dowse on the card.
Morrill would go on to win five more races to take a six pack home with him on Saturday. Beside Joesstar Of Mia A, Morrill also won with Parmesan N (1:54.4, $3.10), Epic Ace (1:52.2, $3.60), Angelo J Fra (1:57, $5.30), Odds On Delray (1:54.2, $2.70) and Runrunjimmydunn N (1:54, $2.10). Morrill was only scheduled to drive in seven races on Saturday and he won five consecutive before finishing out in his sixth assignment. Morrill's UDR for the night was .857.
Another Saturday gate to wire effort was turned in by Big Chic Magnet (Dave McNeight III) in the undercard feature $13,000 Open II pace.
McNeight had Big Chic Magnet pacing sharply on the lead and amassed a 2-½ length bulge at the quarter in :28. As the race passed the stands the first time, Gunslinger Hanover (Drew Monti) came with a rush and made his way to second, crossing over to the pegs at three-quarters. However this challenge didn't phase the leader as Big Chic Magnet rounded turn four in full flight and dashed home on top by 2-¼ lengths to win in 1:54.1.
Big Chic Magnet ($19.40) is owned by EVM Racing and Rodney Long. David Russo trains the winner.
Live racing resumes at Batavia Downs on Wednesday (Oct. 25) at 6:00 p.m. and there will be a $408 carryover in the Jackpot Hi-5 pentafecta wager in race 13.
Free full past performance programs for every live card of racing at Batavia can always be downloaded at the Downs' website (bataviadownsgaming.com) under the "Live Racing" tab and all the racing action can be viewed as it happens for free at the Batavia Downs Live Facebook page.
By Tim Bojarski for Batavia Downs