Presenting $3,000 to WNYHeroes Inc. from the Jackpot 5K
Western Region Off Track Betting (WROTB) and Batavia Downs President and CEO Henry Wojtaszek was joined by staff from WNY Heroes, Inc as they were presented with a check for $3,000.  These proceeds were from this past Saturday's Jackpot 5k event.
"WNY Heroes does so much good in this community, we were pleased to have them be the primary beneficiary of our first ever 5k race," Wojtaszek said. "We are grateful to our corporate partners who donated items and their time to make sure this event was a success.  We were thrilled to have been joined by Buffalo Sports Legends Thurman Thomas and Danny Gare who helped us kick off the event.  Plans are already in the works for next year's event."
The race was sponsored by Ultra, Nutrl, Red Bull, Tops Friendly Markets, Pepsi, Vivify and Pizza 151.  Racers received $25 free play, T-shirt, post race beverage, snacks and Pizza.  The race was run by over 140 people with Kim Tomasik of Orchard Park, NY finishing first with a time of 18:02.  2nd was Matt Oberst from Farmington, NY with a time of 19:03.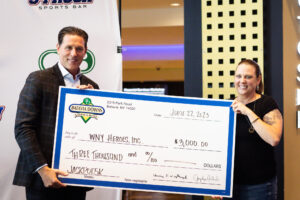 Western Region Off-Track Betting Corporation is a public benefit corporation with headquarters in Batavia, NY. WROTB owns and operates 9 OTB branches, 2 ADW sites, 25 Ez-Bet sites, as well as Batavia Downs Gaming, a standard bred racetrack and gaming and hotel facility. Since its inception, Western Region OTB has generated over $251 million in operating and surcharge revenues to the taxpayers of participating municipalities.
About WNY Heroes Inc.
The mission of WNYHeroes is to provide veterans, members of the armed services, and the widows and children of deceased veterans with access to essential services, financial assistance and resources that support their lives and sustain their dignity.  More information can be found at https://wnyheroes.org/