Elba Central School Sponsorship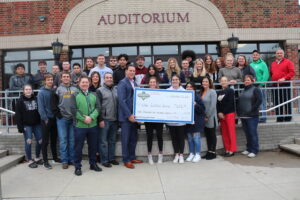 On October 22, 2021, Batavia Downs presented a $1618.00 sponsorship to Elba Central School.
During the 2021 Summer Concert Series, student volunteers assisted our staff in picking up used cans and bottles after each show. Considering that this task got very sticky at times (literally), they were always very reliable, efficient, and eager to help. It is safe to say these students are hard workers.
For this, the money from returning said cans & bottles went to benefit their school. When asked how the money would be spent, students explained that it could go towards several things – one of them being the Senior Trip.
Batavia Downs gives a huge thank you to all of the students who helped out with this fundraiser. The company is proud to have helped Elba Central School in this way for three years so far.