Record $21,499 Jackpot Hi-5 carryover at Batavia Wednesday
Batavia, NY — It has been almost three months since the last single unique winning ticket on the Jackpot Hi-5 pentafecta was cashed and as a result, the carryover for that wager has grown to a record $21,499, which is the highest carryover pool of any kind ever offered at Batavia Downs and it will be available when live racing resumes at the oldest lighted harness track in North America on Wednesday (Nov. 24).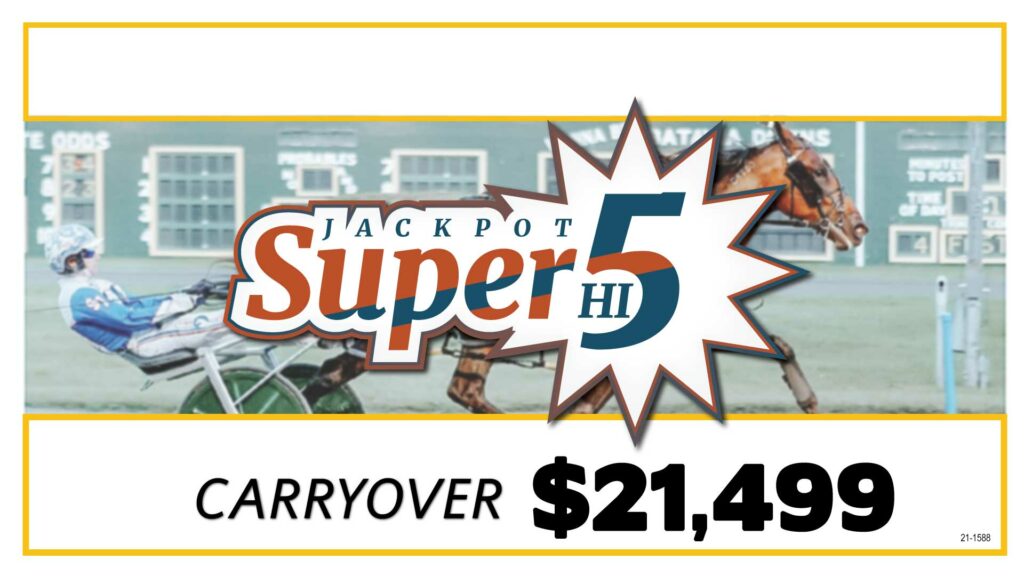 The Jackpot Hi-5 pentafecta on Wednesday is in race nine and it features a very even group of nine Trackmaster 73 pacers, three of which have recently posted winning efforts. However the draw and several driver changes from last week could definitely have an affect on the final outcome. It's the perfect scenario for a longshot to win and provide that elusive single winning ticket needed to take home a jackpot that could easily exceed $25,000 by post time.
With only six race days left in the 2021 Batavia meet, the carryover could continue to grow until closing night. If that happened, with the approval of the New York State Gaming Commission, it would become a mandatory payout on the final night of racing (Saturday, Dec. 11) and would most likely be enhanced with a guaranteed pool in conjunction with the United States Trotting Association's Strategic Wagering program.
Free full past performance program pages for all live Batavia Downs races can be downloaded at bataviadownsgaming.com under the live racing tab in the left-hand column, where they are always available. And if you can't attend the races in person, you can still watch a live stream of the entire night's action on the Batavia Downs YouTube channel.
Post time for the first race on Wednesday is at 5 p.m.
By Tim Bojarski, for Batavia Downs