Ray Fisher Jr. Wins five at Batavia Downs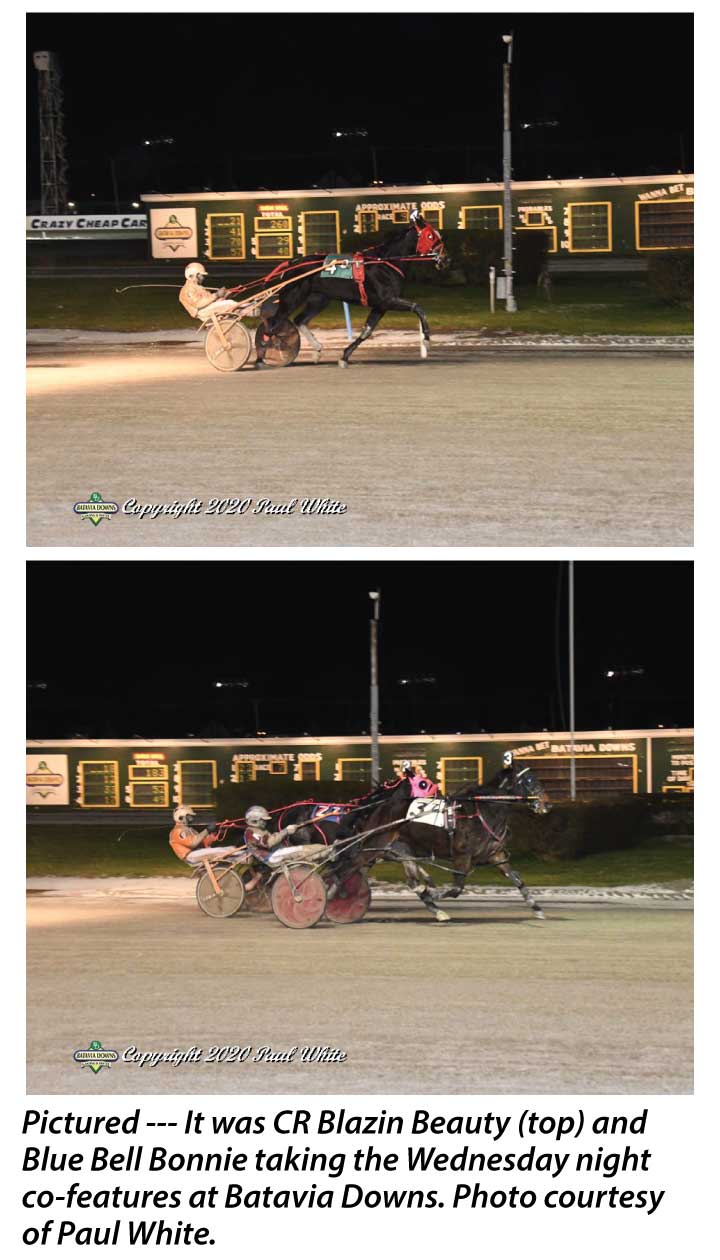 Batavia, NY — Despite wintry conditions and a sloppy track, driver Ray Fisher Jr. was on top of his game and delivered five horses to the winner's circle at Batavia Downs on Wednesday night (Dec. 9) including three straight winners in races two through four for the natural hat trick.
Fisher's top score was in the $10,200 Open I Handicap trot with CR Blazin Beauty, who bolted right to the front and called all the shots. With the two post time favorites making breaks before the quarter, CR Blazin Beauty went unchallenged through fractions of :28.2, :59 and 1:27.4 and then turned for home with a four-length lead. From there she trotted to the wire under wraps to win in 1:59.1.
The victory pushed CR Blazin Beauty ($8.70) to $41,275 in earnings for the year for owner Marissa Russo. David Russo trains.
Fisher also won with Lady Justice (2:02.4, $19.20) and Mr. Quaker (2:01.2, $6.90), both of whom are trained by his wife Ryan Swift, and Wonderful World (1:58.2, $5.00) and Awake My Soul (2:00.1, $2.50) who were both trained by Sabrina Shaw.
Fisher wasn't the only hot driver on the cold night as Jim Morrill Jr. also had a grand slam on Wednesday.
Morrill took the co-featured $10,200 Open I Handicap pace for fillies and mares with Blue Bell Bonnie who also went coast to coast. Blue Bell Bonnie tucked third off the gate but Morrill made an early power play pulling past the eighth to take the lead from Lady London (Ray Fisher Jr.) at the quarter. Once there, the pair led to the half in :58.1 and three-quarters in 1:27.1. Coming off the last turn Lady London pulled to take a shot at the leader but Blue Bell Bonnie would have none of that. She switched gears and paced away to an easy length win in 1:57.3.
It was the sixth win of the year for Blue Bell Bonnie ($4.30) who is owned by Mike Torcello and trained by Gerry Sarama.
Morrill filled out his card winning with Le Millienaire (2:02.3, $5.40), Southern Palms (2:00.3, $4.10) and Simonthediamond (2:03.2, $5.40).
Live racing at Batavia Downs will resume one more time in 2020 as the meet comes to a close on Saturday (Dec. 12) and the Downs has announced there will be a guaranteed pool of $3,000 for the Pick-5 wager that night. The pool is part of the United States Trotting Association's Strategic Wagering Program and as such, free program pages will be available courtesy of Trackmaster on the Batavia Downs and USTA websites on Thursday (Dec. 10).
Post time for the first race Saturday is 5 p.m.
By Tim Bojarski, for Batavia Downs