Mugshots Bro steals the show in Batavia Open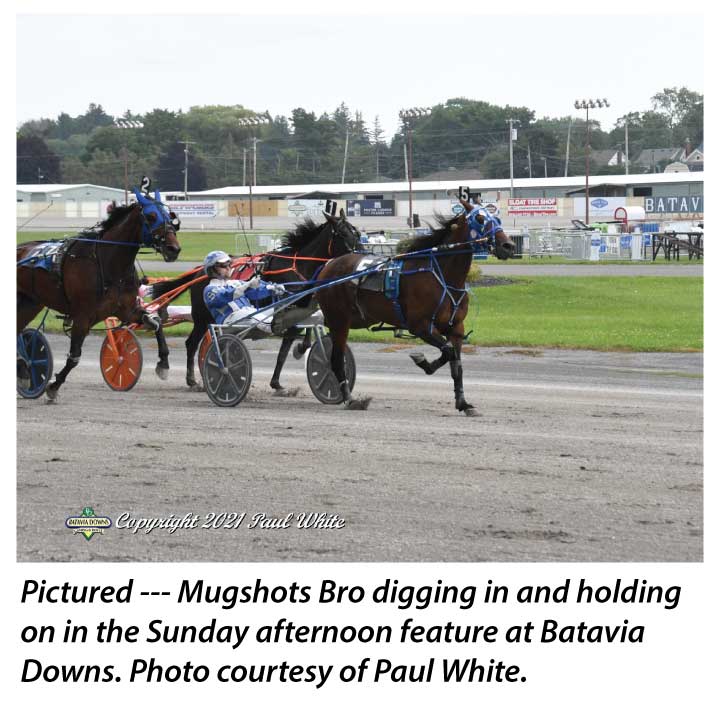 Batavia, NY — As a result of the heady drive by Shawn McDonough, Mugshots Bro made quick work of his competition and won the $11,200 Open Handicap trot at Batavia Downs on Sunday afternoon (Aug. 1).
Mugshots Bro started widest in the scratch-shortened field of five and darted off the car and got the lead with no opposition at all. After scooting to the quarter in :28.3, McDonough grabbed leather and stifled the second panel to :30.3 as no one was mounting an attack. The four followers continued to do so around turn three and up the backstretch to the three-quarters where Mike Caprio finally pulled right line on All About Thechase from third and tried to advance, but Mugshots Bro had a 2-1/4 length lead at that point and maintained it around the last turn. As they headed down the lane All About Thechase and CR Blazin Beauty (Kevin Cummings) trotted sharply and did cut into the margin, but Mugshots Bro had the jump and wouldn't be caught, crossing on top by 3/4's of a length in 1:57.1.
It was the first Open class victory of the year at Batavia Downs for Mugshots Bro ($3.80) and fifth Open of the year overall. With this win the 9-year-old gelded son of Jailhouse Jesse-Photo Emmy broke the quarter-million dollar mark and now boasts $252,046 in earnings for owners Herman Niedhammer Jr. and Herman Niedhammer. Shawn McDonough also trains the winner.
McDonough ended the day with a training/driving double after winning with Best Ears (1:58, $3.00) in the 10th race.
In the $10,000 Open II trot, Lunar Credit pulled off the upset after being a loose leader in a wire to wire win timed in 1:58.4. Trained by Jim McNeight, Lunar Credit is owned and driven by Jim McNeight Jr. and paid $14.40 to win.
Racing resumes at Batavia Downs on Wednesday at 5 p.m. and there are several events of note for that session.
The New York Sire Stakes will be in town with the 2-year-old trotting colts division going for a total purse of $101,700.
And there is a $1,516 carryover in the Pick-5 wager that starts in the first race. Batavia Downs will be offering a guaranteed $5,000 pool for that wager in conjunction with the United States Trotting Association's Strategic Wagering Program. That means free program pages for the first five races will be available starting Monday at ustrotting.com under the handicapping tab and at bataviadownsgaming.com under the live racing tab.
And don't forget that free full card past performance programs are always available for download for every live racing night at Batavia Downs at bataviadownsgaming.com under the live racing tab.
By Tim Bojarski, for Batavia Downs