Morrill, Clouser, Emmons take both Batavia features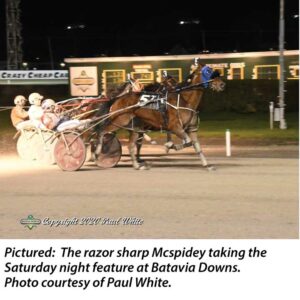 Batavia, NY — Driver Jim Morrill Jr., trainer Jim Clouser Jr. and owner William Emmons teamed up to win both feature paces at Batavia Downs on a snowy and sloppy Saturday night (Dec. 5).
In the $8,500 Open I Handicap pace, McSpidey coasted behind Tullow N (Dave McNeight III) through quarters of :28.4, :58.4 and 1:27.2 before leaving the pocket off the last turn and outpacing him to the wire in a quick :28.4 last quarter to win by 3/4 of a length in 1:56.2.
It was the third straight win for McSpidey ($3.20) and his first Open I victory at Batavia Downs this year.
Then in the $7,500 Open II Handicap pace, Long Train Runnin left, took command and never looked back. After getting to the half in a tepid :58.2, Morrill hit the gas and opened up a three-length lead at three-quarters and extended it to five at the top of the stretch. From there he was wrapped up heading for home the easiest of winners in an identical time of 1:56.2.
It was the second win in the last three starts and sixth win of the year for Long Train Runnin ($2.50) who has only missed one check in his last 10 starts.
Morrill also won two more races on the card giving him a Grand Slam for the evening. Morrill is the meet's leading dash win driver, currently with 97 wins.
Another Grand Slam winner was trainer Gerry Sarama who scored four with Big Pocket Teen 1:59.1, $89.50), (Beachy Dream (1:58, $3.90), Sir Richie N (1:58.1, $3.00) and Love The Dragon (1:58.1, $5.60). Sarama has 60 wins this meet to lead all other trainers by a minimum of 30 wins.
Racing resumes at Batavia Downs on Wednesday (Dec. 9) and will kick off the final week of the meet. Wednesday will feature a guaranteed pool of $3,000 for the Pick-5 wager. The pool is part of the United States Trotting Association's Strategic Wagering Program and as such, free program pages will be available courtesy of Trackmaster on the Batavia Downs and USTA websites on Monday.
The Pick-5 wager begins in race one and runs through race five. It is a 50-cent base wager and if all five winners aren't selected, any carryover pool will be moved to the Pick-5 wager on the Saturday (Dec. 12) program.
Post time for the first race Wednesday is 5 p.m.
— -By Tim Bojarski, for Batavia Downs