Kyle Cummings named Rising Star by UNY USHWA
Batavia, NY — The Upstate New York Chapter of the United States Harness Writers Association has announced that driver Kyle Cummings was named their Rising Star for the 2021 racing season at Batavia Downs.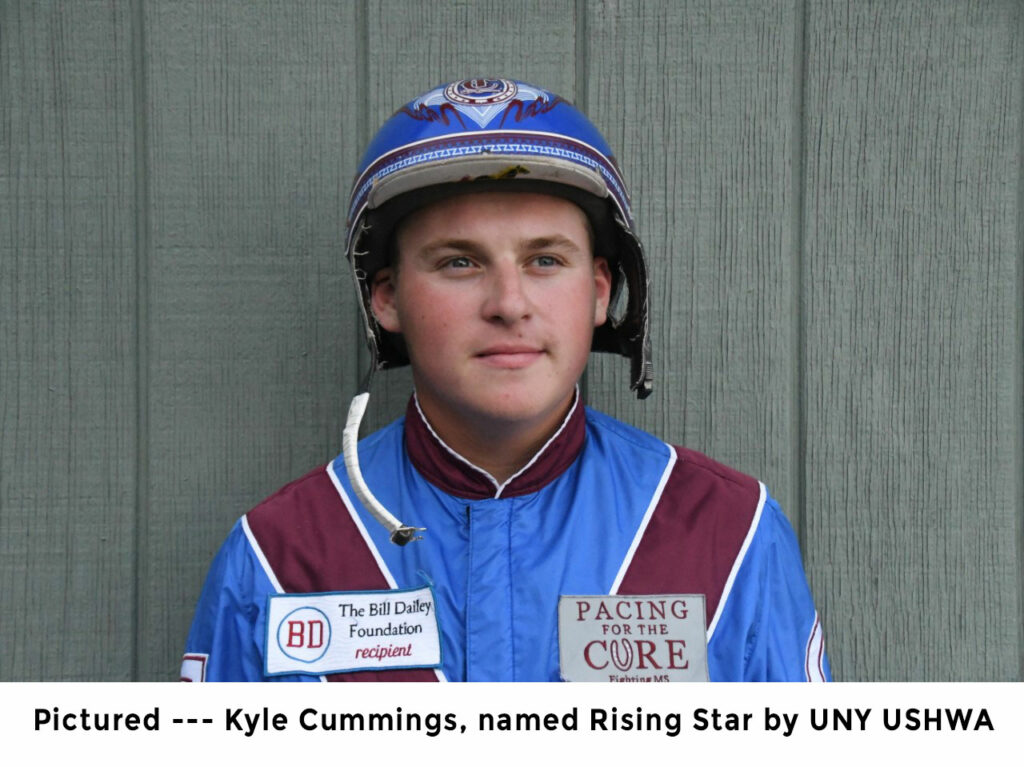 It should come as no surprise that Kyle Cummings has been one of the best drivers in western New York this past year despite a very brief career, as he hails from a family deeply rooted in racing. His father Todd Cummings, mother Tammy Cummings, grandfathers John Cummings Sr. and Hugh Stevens, grandmother Cindy Stark-Casale, uncles John Cummings Jr., Tony Cummings, Kevin Cummings, John Stark Jr., Doug Ackley and aunt Laurie Stark have all been successful trainer/drivers spanning the last 45 years. So he had a wealth of knowledge to draw from and clearly he paid attention.
Cummings got his first pari-mutuel win in April of 2019 with a pacer named Jude Hall and his production at the track took off from there. To say he had a break-out season in 2021 would be an understatement as in only his third year in the bike, the 21-year-old Cummings doubled his win and earnings output posted over the first two years of driving. This year overall he's competed in 721 races with 109 wins, 107 seconds and 101 thirds and has bankrolled $688,417 in purses. But let's break that down a little further.
At the current Batavia Downs meet, Cummings sits third in dash wins with 50 — behind his Uncle Kevin — with earnings of $391,352. Over the summer he was the leading dash driver on the New York Sire Stake fair circuit and was named the NYSS County Fair Driver of the Year at their awards ceremony in November. During that competition he had 50 starts with 26 wins — that included two finals at Goshen Historic Track — 19 seconds and one third and earnings of $60,942 while racing across the state. That equates to a phenomenal UDR of .738 for that series.
For his outstanding performance this year, Kyle Cummings will be presented with the Rising Star award in the Purple Haze Winner's Circle at Batavia Downs on Saturday (Dec. 11) during UNY-USHWA's Night of Distinction. Saturday is closing night at Batavia Downs and post time for the first race is 5 p.m. 
By Tim Bojarski, president, Upstate New York USHWA