Kevin Cummings wins four and both features at Batavia Downs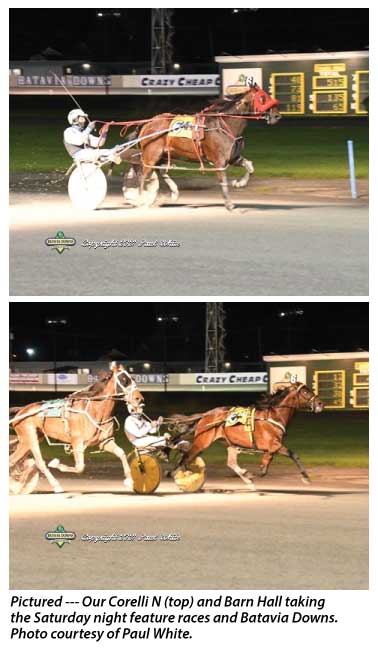 Batavia, NY — Perennial local driving leader Kevin Cummings had his best one-night performance of the current Batavia Downs meet on Saturday (Nov. 13) after he posted four winners during the card that included victories in both feature races.
In the $13,500 Open I Handicap pace, Cummings won with Our Corelli N on the horse's first trip to western New York.
Mississippi Rabbit (Dave McNeight III) and Art Scene (Jim Morrill Jr.) both left and argued vehemently to the quarter in :27.3 and the half in :55.3 before Art Scene finally took to top heading on to the second circuit. But as soon as he crossed over, McSpidey (Kyle Cummings) and Our Corelli N started on the move in the breeze and continued to pressure Art Scene.
McSpidey couldn't get by Art Scene so Cummings popped the plugs on Our Corelli N and swung three-deep around both, eventually putting a head in front at three-quarters. Our Corelli N cleared and opened up two lengths at the head of the stretch and under moderate urging, paced away to the line on top by 1-3/4 lengths in 1:55.2.
Our Corelli N ($7.70) was a $40,000 claim at Yonkers Raceway in September by current owner Marissa Russo and this was his first start and win at Batavia Downs for his new connections. David Russo trains the winner.
Later in the $13,500 Open I Handicap trot Cummings was back behind Barn Hall and made every station a winning one.
Barn Hall left from post six, took the lead before the quarter and controlled the race from there. With Saratoga invader Oh So Pine (Larry Stalbaum) following intently from second, Barn Hall clicked off quarters of :28.3, :59.1 and 1:29 with only a mild bid from Mugshots Bro (Shawn McDonough) to contend with at that last station.
As the race rounded the final bend, Barn Hall and Oh So Pine started to separate from the field. When they straightened out for home, Oh So Pine tipped and tried to rush to the front, but Barn Hall would have nothing to do with that and kept his length lead all the way to the light to win in 1:58.4.
Barn Hall ($7.10) now has eight wins and $71,577 on the card in 2021 for owners Steve and Nancy Pratt, Purple Haze Stable and Out In The Country Stable. Steve Pratt trains the 3-year-old colt.
Cummings completed his grand slam with Dontdoubtthelakers (1:59.1, $30.00) and Gallery Opening (1:57.1, $7.90). Cummings also had two seconds and two thirds from his 11 drives, giving him a UDR of .598 for the night. Cummings is currently second for the meet in the dash driving title race with 76 wins behind Jim Morrill Jr. who sits in first with 94 victories.
The $12,500 Open II Handicap pace saw Surfer Beach (Jim Morrill Jr.) pull the drop-and-pop on the strength of a muscle move off the gate. Surfer Beach left and refused to seat, eventually getting parked past the half by Lord Willoughby A (Larry Stalbaum). But he eventually took control at the five-eighths and after putting away a challenge from Sunfirewindrain (Jim McNeight Jr.) up the backstretch, Surfer Beach caught a wave and hung-ten in the stretch to win by 2-1/4 lengths in 1:54.3.
It was the tenth win this year for Surfer Beach ($4.90) who is owned by Vogel & Wag Nags, Team Rice Racing and Adelphi Bloodstock. Maria Rice trains the winner.
Morrill, Rice and their ownership group also hooked up with Party Boy Hanover (1:59.4, $3.20) to end the night with two wins across the board.
When live racing resumes at Batavia Downs on Wednesday (Nov. 17) one of the largest carryover pools currently being offered at any race track in North America has grown once again and will be offered in race 11. After no single unique winning ticket was sold on the Jackpot Hi-5 pentafecta again on Saturday, the carryover is now set at $18,534 for that wager on Wednesday.
Free full past performance program pages for all live Batavia Downs races can be downloaded at bataviadownsgaming.com under the live racing tab in the left hand column where they are always available.
And if you can't attend the races in person, you can still watch a live stream of the entire night's action on the Batavia Downs Youtube channel.
Post time for the first race is 5 p.m.
By Tim Bojarski, for Batavia Downs