Foo Fighter N, Castyourcrown take Batavia features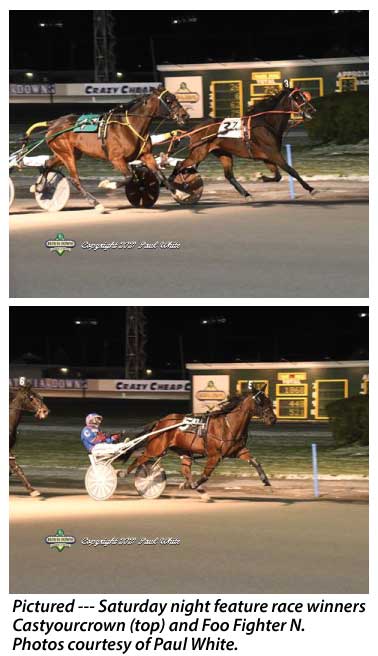 Batavia, NY — A pair of $13,500 feature races — one on the pace and one on the trot — headlined the Saturday night (Nov. 27) card at Batavia Downs and the close competition provided great racing and some stout payoffs.
First in the Open I Handicap Pace, Foo Fighter N scored his third consecutive win, only this time winning at the top level.
The visiting Jahan Hanover (Jim Pantaleano) left hard from post six and took the front as Foo Fighter N (Kyle Cummings) sat snug in the pocket and post time favorite Stratosphere (Drew Monti) settled in third. Positions remained unchanged through quarters of :27.2 and :56.3 until Monti pulled Stratosphere first-over into the clubhouse turn and was pacing towards the leader.
Stratosphere got within a half-length of Jahan Hanover at three-quarters but was faltering in the last turn. Jahan Hanover paced away at the top of the stretch and looked like he might take this race. But Foo Fighter N was just getting underway and as soon as the passing lane opened up, Cummings dipped down to the pylons and got his horse in gear. Foo Fighter N took it from there, pacing past Jahan Hanover just before the wire to win by 1-1/4 lengths in 1:54.1.
It was the eighth win of the year for Foo Fighter N ($6.70) who now has earnings of $85,408 this year for owner William Emmons. Jim Clouser Jr. trains the winner.
The Open I Handicap Trot was an exciting event that saw 11-1 longshot Castyourcrown brush late at the light.
Warrawee Shipshape (Dave McNeight III) left briskly and cut the quarter in :28. Franks Watching (Ray Fisher Jr.) was out and rolling early and actually grabbed the lead on the outside at the half in :58.1. But Warrawee Shipshape came back to regain the lead in the third turn but was not done with challengers just yet.
As the race hit three-quarters, there were five horses in play, Warrawee Shipshape on top, Castyourown (Monti) behind him and Franks Watching, Schnickel Fritz (Kyle Cummings) and Barn Hall (Kevin Cummings) all outside. At the top of the stretch these five fanned five wide and all were alive. But Monti found room at the pylons with Castyourcrown and out-trotted them all to the wire to win by a neck in 1:58.3.
The 3-year-old trotter Castyourcrown ($25.40) moved his lifetime earnings to $80,500 after the victory for owners Blake Daniels and Never Give Up Racing. Michael Deruntz trains the winner.
Monti and Deruntz also hooked up with Mikimoto (1:55.1, $32.60) to give each a pair of wins on the night.
The $12,100 Open II Handicap Trot actually went faster than the top trot when Spoiler Alert (1:57.4, $6.20) took the lead at the three-quarters and strode out to a 5-1/2 length victory for driver Jim Pantaleano. Spoiler Alert got his fifth win of the year for owner Jeffrey Hayes and trainer Misty Carey, who also scored a training double on Saturday.
Drivers Kevin Cummings, Kyle Cummings and Denny Bucceri and trainers Gerry Sarama and Jim Clouser Jr. all had two wins apiece on Saturday.
When live racing resumes at Batavia Downs on Wednesday (Dec. 1) there will be multiple opportunities for excellent return on investment wagers as the night will feature one guaranteed pool and three carryovers, including the largest in track history.
To start, there is a $5,375 carryover in the Pick-5 wager in the first race and the management of Batavia Downs has announced that the pool will be guaranteed at $17,500 as part of the United States Trotting Association's Strategic Wagering Program. And as a result, free program pages will be available courtesy of TrackMaster on the USTA's website and the Batavia Downs website and Facebook page. The Pick-5 is a 50-cent base wager that begins in race one and runs through race five.
Then in race five, there is a small but mentionable carryover of $397 in the Jackpot Pick-6. That is a 20-cent base wager and it runs through race 10.
Race 10 is also where you will find the Jackpot Super Hi-5 pentafecta that currently has the largest carryover in the history of Batavia Downs — $24,624. This carryover has been building for three months and a single unique winning ticket on the right combination takes down the entire pool. This is also a 20-cent base wager.
Free full card past performance program pages for every live racing night at Batavia can always be downloaded at bataviadownsgaming.com under the live racing tab. And if you can't attend live, you can still watch all the racing action via the Batavia Downs YouTube channel.
Post time for the first of 10 exciting races is slated for 5 p.m.
By Tim Bojarski for Batavia Downs