All About Amy upsets in Batavia distaff feature
Batavia, NY — Despite winning two out of her last three starts, All About Amy was let go at 12-1 and she made the betting faithful regret it after she won the $12,100 Fillies and Mares Open II Handicap pacing feature at Batavia Downs on Wednesday night (Nov. 24).
Five horses left in a crazy start that saw two of them lock wheels and take an early bow. But the fireworks continued as Queen Of Thrones (Ray Fisher Jr.) and No Where To Hide (Kevin Cummings) fought vigorously to the quarter in :28.3 while All About Amy (Denny Bucceri) was following the proceedings from fourth. The dust finally settled and the girls followed single file all the way to the five-eighths where All About Amy tipped first-over and started her march towards the leader.
By the time the race passed three-quarters in 1:28.3, All About Amy had drawn even with No Where To Hide. The two mares paced side by side around the last turn and halfway down the stretch where it actually became all about "Amy," who cleared and held off a quick closing Pretty Blue Angel (Mike Baumeister) to win by a length in 1:58.3.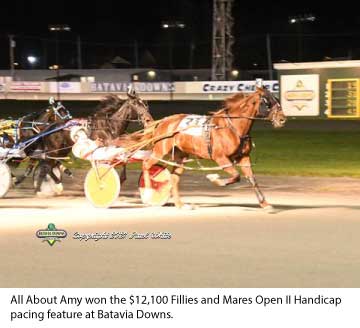 All About Amy ($27.60) lit up the toteboard with her seventh win of the year and went over the century mark in lifetime earnings as a result, now showing $101,778 on her card. The 5-year-old daughter of Western Vintage and Lucky Turn is owned by Phil Mazzone and trained by Russell Bratt.
Five participants had two wins each on Wednesday night including drivers Denny Bucceri, Kevin Cummings and Dave McNeight III along with trainers Cassandra Johnson and Gerry Sarama.
When live racing resumes at Batavia Downs on Saturday (Nov. 27) there will be plenty of opportunities to enhance your Christmas shopping power as the night will feature one guaranteed pool, three carryovers and a free Pick-6 contest.
To start, there is a $1,094 carryover in the Pick-5 wager in the first race and the management of Batavia Downs has announced that the pool will be guaranteed at $5,000 as part of the United States Trotting Association's Strategic Wagering program. That means free program pages for those races will be available courtesy of TrackMaster on the USTA's website and on the Batavia Downs website and Facebook page. The Pick-5 wager begins in race one and runs through race five.
Then is race six, there is a carryover of $296 in the Jackpot Pick-6. That is a 20-cent base wager and it runs through race 11, where you will find the Jackpot Hi-5 pentafecta that currently has the largest carryover in the history of Batavia Downs — $22,668. The Jackpot Hi-5 is also a 20-cent base wager.
And if that wasn't enough reason to bet the races at Batavia Saturday, those attending in person can play the free $1,800 Pick-6 contest that starts in race four and runs through race nine. Simply pick up an entry blank at Players Club starting at 4:30 p.m., make your selections and deposit it before the start of the fourth race. There is only one entry per person and you must pick all six winners to win the pool.
Free full card past performance program pages for Saturday and every live racing night at Batavia can always be downloaded at bataviadownsgaming.com under the live racing tab. And if you can't attend live, you can still watch all the racing action via the Batavia Downs YouTube channel.
Driver Jim Pantaleano will also be making a visit to the Downs on Saturday and is scheduled to drive in eight races during the night including two from his own Meadows-based stable. Pantaleano has 8,159 lifetime wins and $60 million in purses and will certainly add some competition to the local driving colony.
Post time for the first of 11 exciting races is slated for 5 p.m.
Tim Bojarski for Batavia Downs