2021 Batavia Downs meet features free programs, new bets and live video
Batavia, NY — Batavia Downs kicks off it's 74th season of live racing on Wednesday (July 21) at 6 p.m. and the management, staff and horsemen couldn't be more excited to welcome back a live crowd to watch the best harness racing available in western New York. The track is also pleased to announce a plethora of new features that are sure to make Batavia Downs one of the most bettor-friendly options for both live and simulcast patrons.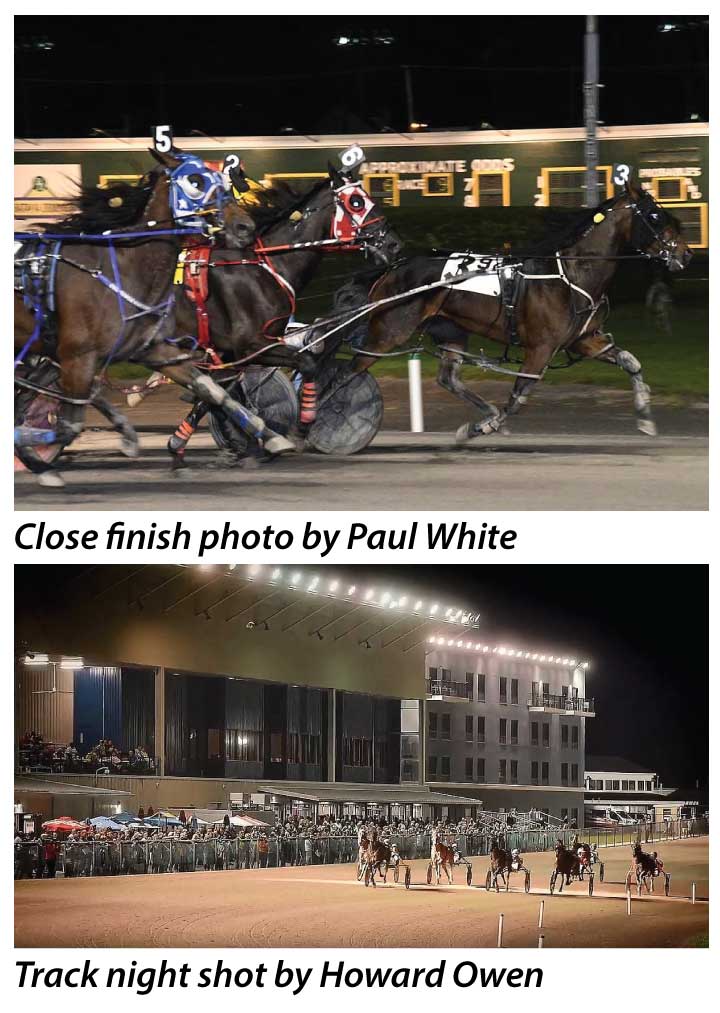 "We couldn't be more excited to be able to welcome all our longtime fans and friends back to Batavia Downs and see them watching trackside with absolutely no restrictions," said Henry Wojtaszek, President/CEO of Western Regional Off Track Betting and Batavia Downs Gaming. "Last year was challenging for everyone, but that is in the past and we are laser-focused on the future. And the future is certainly bright for our customers and horsemen at Batavia Downs."
The meet runs for 59 dates and ends on Saturday (Dec. 11). In July and August racing will take place on Wednesdays at 5 p.m. (except opening night), Saturdays at 6 p.m. and Sundays at 1:15 p.m. Then in September, October and November the schedule shifts to Wednesday, Friday (except Nov. 19 & 26), Saturday with all post times at 5 p.m. December cuts back to just Wednesday and Saturday and both will go to post at 5 p.m.
There are two special matinee cards on Monday (Sept. 6) at 1:15 p.m. which is Labor Day and Saturday (Nov. 6) at 3:15 p.m. which is Breeders Cup Day.
"Batavia Downs racing staff has put forth great time and effort to prepare for the 2021 Meet," said Scott P. Kiedrowski, Vice-President of Operations at Batavia Downs. "We have invested in new equipment to condition our track and have given our Clubhouse and Rail Bar a fresh new look. This should be another fantastic year for harness racing here at Batavia Downs"
The big news this year is Batavia Downs is now offering free full-card past performance programs for every live day of racing throughout the 2021 meet. You will be able to download them from the Batavia Downs Facebook page or from the website at bataviadownsgaming.com. Traditional programs will still be on sale at the track for $2 and include a $5 Free Play coupon for the gaming floor.
Batavia Downs is introducing two new wagers this year; the Jackpot Pick-6 and the Jackpot Super Hi-5. Both will be available each night and promise to feature some of the largest pools ever offered at the oldest lighted harness track in North America.
The Pick-6 is a 20-cent minimum wager that will be in races 6 through 11, where you must pick the winner of each race. There will be a nightly payoff for bettors selecting the most winners but you must have a single unique winning combination ticket to take home the jackpot.
The Hi-5 wager will be in the last race each day. It too is a 20-cent minimum wager where you must select the top five horses in the correct order of finish in that race. There will be a consolation payoff to those selecting the correct order of finish but you must have a single unique winning combination ticket to take home the jackpot.
Both of these wagers will feature carryover pools the next race day in the event that no single unique winning combination ticket was purchased.
If you can't make it to the track, you can also wager at any WROTB outlet in western New York or online with bataviabets.com. Opening an account with bataviabets.com allows our customers to wager on all Batavia Downs races as well as every other harness and thoroughbred track racing each day. Anyone 18 and over can easily open an account online through the service. Customers wagering online can receive bonuses of between 5% and 8% added back to their accounts based on monthly play. Plus you can use the service whether you're trackside or watching from the comfort of your home.
Once you wager you can now watch all the races live every night as they will be broadcast in real time through a live stream on the Batavia Downs YouTube page. It's free and easily accessible at the following link: https://www.youtube.com/channel/UCFiGrHATYnDPZ8Kdlu9qiuw
Be sure to subscribe to the Batavia Downs channel to receive a notice when the races go live to follow all of the action.
"We have done everything we could to make wagering at Batavia Downs the most user-friendly experience possible. We've added new wagering options with the promise of big payouts, the ability to get all past performances through free programs and added a platform to watch every race, again at no cost. We hope to add new customers to our already loyal following and hope everyone takes advantage of what we have to offer this year," said Todd Haight, Director/General Manager of live racing at Batavia Downs.
The clubhouse will be open but with limited menus and capacity. It will be available on Wednesday and Saturday only until September, when it will also be open on Friday. Seating will begin one hour before the scheduled post time for each race day. Reservations are strongly recommended and can be made by calling 585-343-3750, ext 6268.
The action on the track is the most important piece and that starts with the stake schedule.
The New York Sire Stakes (NYSS) will visit the Downs three times during the summer, bringing four of the eight divisions with them. On Wednesday (July 21) which is opening night, the NYSS 2-year-old trotting fillies will be in town. One week later on Wednesday (July 28) the Downs will host an all-stake double-header as 3-year-old pacers of both genders will be on hand. And then on Sunday (Aug. 4) the 2-year-old male trotters will close out the NYSS schedule.
All your favorite local horsemen and horsewomen will be returning including last year's top driver Jim Morrill Jr. along with Drew Monti, Dave McNeight III, Ray Fisher Jr., Shawn McDonough, Jim McNeight Jr. and Kyle Cummings. Training champion Gerry Sarama will also be back to defend against Shawn McDonough and Maria Rice who finished within three wins of each other last year for second place, along with a host of other conditioners.
Batavia Downs offers a text messaging service for notices about draws, entries and changes to the racing schedule. Horsemen are strongly encouraged to text the word "HORSEMAN" to 51660. You will then need to reply "YES" and you will be opted in for race office text message updates.
By Tim Bojarski, for Batavia Downs